What You Need To Know About The Affluent Asian Traveler
The affluent Asian Traveller presents significant potential for brands wishing to participate in the real sustainable surge in Asian luxury and premium travel.
To uncover their travel patterns and behaviour, Agility Research & Strategy conducted a survey in six fast-growth Asian markets – China, Hong Kong, India, Indonesia, Malaysia, and Singapore. A total of 1003 respondents participated in the online-administered research initiative in the second quarter of 2013.
About the Affluent Asian Traveler
• They range from 18 to 59 years of age, and occupy the top 25% income range in their respective countries. The group is dominated by young professionals who predominantly travel for pleasure rather than business. Travel represents reward, relaxation and experience whilst sending external messages of wealth, status and ambition.
• Affluent Asian Travelers prefer to travel with their family, partner or friends where possible to share the experience.
Key Insights from Agility Research & Strategy
1. Quality is the primary consideration when making any travel purchase, and these discerning consumers are prepared to spend to secure this demand.
• The top five destinations include the Maldives, a pampering beach-break location, and fashion capitals such as Paris, London, Tokyo and New York.
• The top five choices for hotel accommodations are dominated by luxury hotel chains Shangri-La, Four Seasons, Marriott, Sheraton and Hyatt.
2. Affluent Asian Travelers combine their love of travel with Asia's much-loved pastime – shopping! They choose exclusive brands that resonate with them as an individual.
• Affluent Asian Travelers are more likely to spend a higher proportion of their money on purchases over the next 12 months than Affluent Asians with no or little desire to travel.
• The top five rated fashion brands are big European labels Gucci, Chanel, Louis Vuitton, Prada and Christina Dior.
• Rolex leads the list for luxury timepieces, followed by Omega, Gucci, Chanel and Louis Vuitton.
3. Time is the real luxury when it comes to travel experiences.
• Affluent Asian Travelers expect a smooth, effective service that gets them to their end destination with minimal fuss and within acceptable time-frames. Services which deliver the desired level of quality and comfort, such as lounges, limos and hassle-free check-ins, are desirable add-ons.
• Singapore Changi Airport is rated first for its efficiency and functionality, while Hong Kong International Airport is favoured for its more exclusive services.
Here are the brands affluent Asian travellers prefer: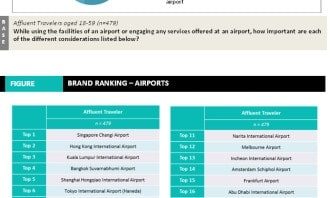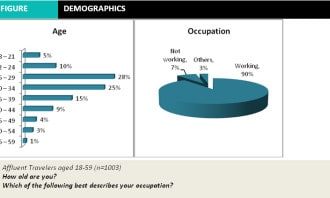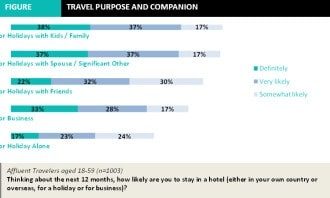 Top 3 recommendations for Travel & Retail Companies
• The Affluent Asian Traveler is ready to spend, but businesses must be aware of their primary targets within the group. The young professional travelling alone for business would not react to the same marketing message that appeals to an older professional taking his family on vacation. Hotels, resorts, and luxury retailers should be conscious of travel intent in different cities to place appropriate focus on segmenting and communicating key offerings.
• Mid-market brands may consider engaging in up-market line stretching beyond their current product range to partake in this highly lucrative and growing segment.
• The Affluent Asia Traveler favours airports that are functional, and possess luxurious elements. Airports falling short should seek to improve these key elements before addressing secondary concerns such as cultural elements or the shopping experience.