Top 3 Tips For Luxury Car Brands, Luxury Brand Research Asia
High luxury motor car manufacturer Rolls-Royce kicked off 'The Icon Tour' on April 22, at the Flower Dome in Gardens by the Bay to celebrate 110 years. The tour showcased the exemplary company history and renowned icons Ghost, Wraith and Phantom, with factory artisans present. Rolls-Royce places great emphasis on the bespoke business as the majority of ultra-high net worth customers (UHNWI) seek extensive personalization. Rolls-Royce is eyeing the Asian market for its good potential; the tour is set to make further stops in Tokyo, Hong Kong, and Seoul.
Rolls-Royce invited Agility Research & Strategy to make a presentation on the day of opening. The talk conveyed key Asian market insights regarding the affluent consumer generation that will drive business for years to come. The 2013 study involved more than 7000 consumers to understand the top 40% income segment and their relationship with brands.
This emerging class has been named Generation AAA after their unique traits; they are aspirational, ambitious, and affluent. It possesses the financial power and propensity to buy mid- to premium-priced brands.
About Generation AAA –
Generation AAA is a young group at 18-34 years, with an equal gender distribution.
More than 75% have earned a university degree or higher, and of this majority, 62% are in mid- to high-level influential positions in their respective companies, while about 6% are entrepreneurs.
Key Insights from Agility Research & Strategy
Generation AAA dominates Asian markets such as China, Hong Kong, India, Indonesia, Malaysia, the Philippines, Singapore, Thailand, Taiwan, and Vietnam. Within the next 12 months those in India are the most likely to purchase a car, followed by Indonesia and China (figure 1). The high inclination for car purchase in India and China can be attributed to the swell in ranks of the well-to-do, and changing taste in cars.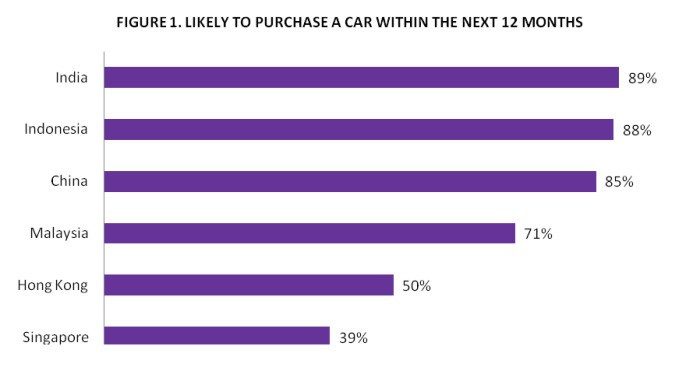 The majority of Generation AAA chose the price-quality relationship as the most important consideration when buying luxury cars, followed by their identification with the brand, and the individuality the brand conveys to others (figure 2).
Brand pricing relative to quality is vital as the pricing and marketing signals put out have to be consistent with consumer expectation. Brand identification and conspicuous individuality are important as users view purchases as an extension of themselves.

Generation AAA also rates Rolls-Royce among the top ten luxury cars (table 1), while BMW is rated as the top brand in Singapore, Malaysia, Hong Kong and China, and Mercedes Benz is rated higher in India and Indonesia.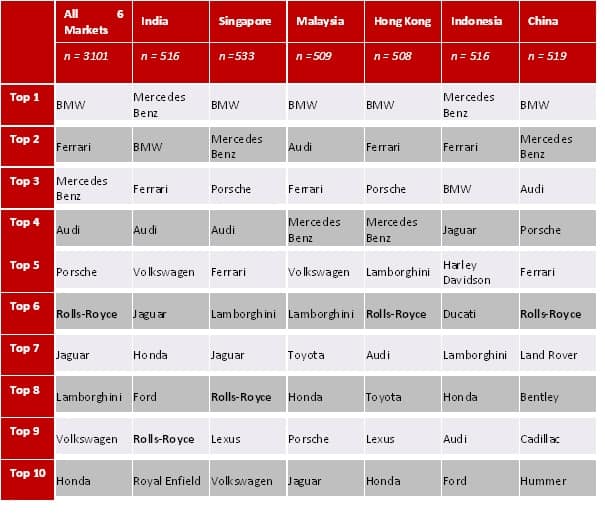 Top 3 Tips for Luxury Car Brands by Agility Research & Strategy
> There is high market potential in India, Indonesia, and China over the next year and foreseeable long term. Luxury car brands should ramp up marketing frequency and intensity in those significant areas to penetrate consumer consciousness.
> Consumers' main concerns are brand and pricing relationship, brand identification, and ability to use the brand to express individuality. Brands must seek to create coherence between their pricing strategies and brand equity to appeal to consumers; a high pricing must be supported by a reputation, while low prices may dilute brand value. Luxury car brands must also profile their target markets more accurately to achieve a good fit with consumer identity.Consumers prefer brands that are a good fit with their self-image or ideal self-image, and brands which can serve as a form of expression.
> Each automotive giant may well be banking on a different strategy based on their individual luxury brand rankings. Brands may need to decide on the optimal spot based on their target market size and intended exclusivity.