Standard Chartered: Asia Standard Chartered: Sustainable Investing Report 2019
Affluent and high-net-worth (HNW) individuals are increasingly thinking about their role as responsible global citizens. With the risks from major challenges, such as climate change and lack of access to healthcare and education, becoming ever clearer, our clients are looking actively for opportunities to effect positive change.
Sustainable Investing in 2019
HNW investors in Asia are expected to increase their investment allocation in sustainable investments to almost 20%, bolstered by a growing desire to create a better future through their investment dollars.
We continued to track the three investor archetypes – Altruists, Value Seekers and Unengaged – in China, Hong Kong, Singapore and India. The survey examined patterns in their engagement in sustainable investing, motivating factors and what is holding them back, compared with 2018.
Here's how we defined the investor archetypes: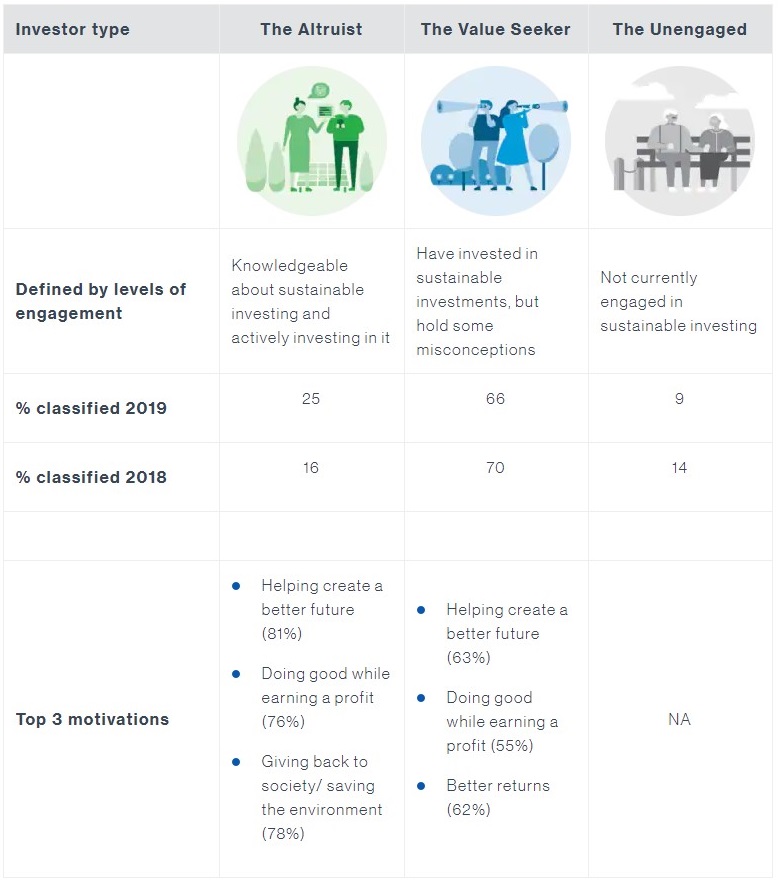 Access to information is key
The study revealed that investors' knowledge about sustainable investing continues to improve. In Asia, now almost 30% of investors can correctly define it, up from 20% in last year's survey. Similar to 2018, Singapore continues to have the highest number of HNW investors (43%) in Asia who are knowledgeable about sustainable investing. In China and Hong Kong, there were improvements of 5% and 15% in understanding from last year, to 18% and 27% respectively.
Value Seekers remain dominant sustainable investor type
The growing social conscience of HNW investors across archetypes is reflected in the fact that their top motivation is to "Create a better future" (81% for Altruists and 63% for the Value Seekers). Within the Altruists and Value Seekers, we uncovered a new sub-category of Aspirants, investors who claimed to be engaged in sustainable investing but have not yet put their funds towards it.
The evolution of sustainable investing follows a pattern
Compared with 2018, this year's survey uncovered a pattern of evolving investor behaviour as they progress along their sustainable investing journey. Although momentum is strong, some investors are holding back due to a perceived lack of transparency and concerns about returns.
We broke down their sustainable investing journey into four phases:

Supporting the Sustainable Development Goals
Investors are increasingly keen to support the Sustainable Development goals with their funds, to bridge the annual global funding gap of USD2.5tn. Altruistic investors are most motivated by energy and climate issues (22%), while Value Seekers are most motivated by health and education goals (12%).
What's holding investors back?
Sustainable investments now make up around a fifth of Asian investors' investment funds – in China, a majority of respondents have already allocated between 25% to 50% of their funds to sustainable investments.
Despite the willingness to engage in sustainable investing, there remain some barriers holding investors back. In Asia, 41% of the Unengaged cited 'Lack of information about sustainable investing opportunities'. 40% of the Aspirants echoed this view as the top reason for not engaging in sustainable investing. Overall, 46% of investors in Asia felt that a 'Demonstrated track record of positive financial returns' would help increase their engagement with sustainable investing.
How are we helping?
We have a range of solutions to provide clients the opportunity to make both financial and social impact. In Q3 this year, we will incorporate Environmental, Social and Governance (ESG) scores into our wealth management investment advisory trade notes for equities. This will allow clients to factor in ESG considerations in their equity investments.
Find the full report on the Standard Chartered website here.