NEWSLETTER The New Normal: Asian Affluent Consumer's Mindset Post Covid-19
How has Covid-19 impacted the affluent consumers' mindset and behavior? To understand the consequences of the Covid-19 crisis and to help our clients navigate within the new status quo, Agility Research & Strategy has conducted the second wave of our  signature 
TrendLens™ study where we interview a cross section of Asian affluent and high net worth consumers. This study aims to understand the implications of Covid-19 on them and what has changed from January this year since Wave 1 was conducted to the present time.

In this wave, we spoke to over 4,000 affluent and high-net worth consumers in all key geographies in Asia, from Japan to Singapore, from China to Indonesia and India.

Some of the results were surprising. The data tells us an interesting and complex story of shifting priorities and overall rethinking of lifestyle choices. Here are three key insights we picked to highlight some of these changing trends. Full details and insights/data are available in our 
TrendLens™ Reports by market:

Short Term Worries, Long Term Optimism

Unsurprisingly, consumer confidence has taken a hit in the last 6 months among affluent and HNW individuals in Asia.

While their wealth through high savings has shielded them from the worst consequences of the Covid-19 situation, the economic slowdown and health concerns have not left them untouched. Concerns about the impact on the economy have made them more conscious when purchasing luxury goods. Lingering concerns about travel safety have made them more likely to choose domestic destinations or countries closer to home when international travel does reopen.

Yet analyzing our data, we see how, despite concerns about the economy worsening, consumers remain relatively optimistic on their own financial prospects and economic situation – particularly affluent Chinese and Koreans.

Our data show that more Chinese and Korean affluent consumers still expect their economic wellbeing and disposable income to increase rather than decrease in the next 12 months.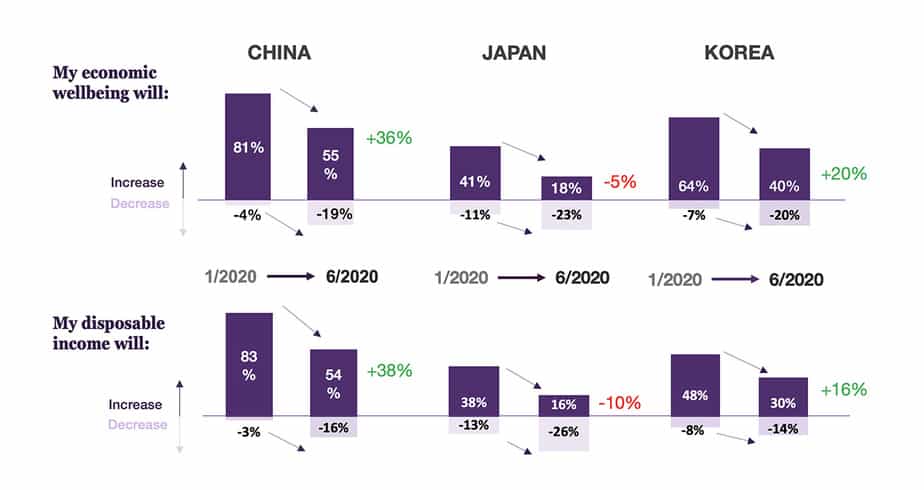 ---
A Few Key Takeaways

Our data suggest a quick recovery in many markets and resiliently upbeat affluent consumer sentiment in the face of the pandemic. This is the right time for brands to start investing in key markets and segments.

At the same time, brands need to be ready to adapt their strategy to the new landscape. 
Since affluent Chinese consumers will not be able to travel internationally for the immediate future, brands will need to put in place strategies that expand their reach to these consumers where they are. Huge opportunities are opening up for brands that are willing to deepen their reach in Tier 3 and 4 cities.
How Can Agility Help?

Agility has been working with leading luxury and premium brands to understand and win wallet share from affluent consumers for over a decade. We help brands across a broad set of challenges and opportunities that lie ahead in this post-Covid world.

Contact jason@agility-research.com to schedule a call with a consultant in your market to share more about our work and case studies.
The full program of our TrendLens™ 2020 Report which reveals post-covid data from interviews with over 4,000 High-net-worth and the Affluent consumers is available from July 20th. Contact our consultant atjason@agility-research.com for more information.
To receive the full newsletter, enter your details below: