FEATURED Luxury Daily: China's return gives luxury brands hope of positive global outlook
Luxury marketers can learn two key post-COVID-19 lessons from China: brands should maintain connections with their loyal VIP shoppers and embrace the new digital and virtual lives that consumers have built even when stores reopen.
China has shown the way to bounce back, according to the webinar, "China Luxury Rebound: Lessons for Other Markets," featuring Amrita Banta, Singapore-based managing director of Agility Research & Strategy and Luxury Daily editor in chief Mickey Alam Khan. The webinar is part of Luxury Daily's Luxury Roundtable series.
"The turnaround was pretty quick because the crisis was controlled quickly," Ms. Banta said on the webinar. "A slower turnaround and a slightly longer crisis that China avoided."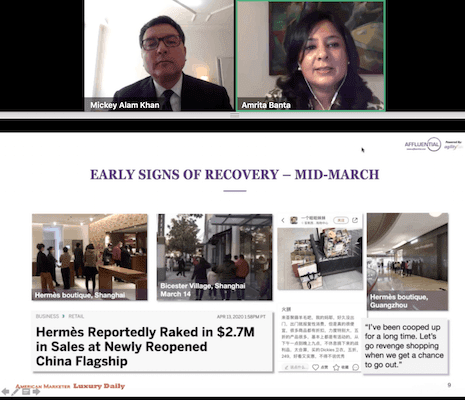 Reopenings
January and February were not business as usual in China, as cities shut down under pandemic-related lockdowns.
Things slowly started to reopen in March and when the Wuhan ban lifted on April 7, the market began to rebound.
Many luxury brands reached 60-70 percent of 2019 levels in March, and saw continued weekly increases in April.
Some brands have already reached 2019 levels. Others are cautiously optimistic about recovering to 2019 levels in May or June.
"Luxury leaders have a very positive outlook on recovery expectations," Ms. Banta said. "Some executives expect things to return to 2019 levels in a few months, others expect several months to a year."
One of the early signs of recovery was the element of "revenge spending," when stores first opened and consumers made up for lost time.
"There was a pent-up demand while people were locked down at home and this could really happen in the other markets," Ms. Banta said. "It was like people needed some retail shopping, to reclaim a sense of normalcy by going back to what they were doing before the lockdown."
Much of this shopping was encouraged by stimulus programs created by the Chinese government. India has recently announced a similar stimulus program.
"There was a definite rebound of people coming back and going a little bit overboard during the first week or two," she said.
To read the full article, please click here