FEATURED ChannelNewsAsia: Singaporean socialite or tech addict? What will owning Apple's iPhone X say about you?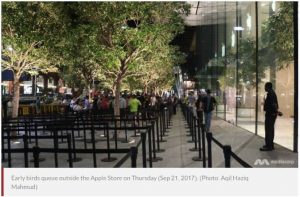 SINGAPORE: The new iPhone X will be available in Singapore on Nov 3, with pre-orders starting from Oct 27.
Chances are, you'll know at least a few Singaporeans who plan to renew their contract with their telco during this period, in order to purchase this snazzy smartphone for a lower price.
Apple claims to have unveiled the future of the smartphone when it announced the new iPhone X.
This claim to supremacy is backed by a new all-glass design and innovative features like a super retina display, TrueDepth camera system, facial recognition and an A11 bionic chip with neural engine.
What exact benefits these futuristic sounding features will bring to customers that will make such a profound difference in their lives is unclear, but these are likely to make its price, which goes from US$999 (S$1,345) upwards, more palatable for a gadget that has its roots in an otherwise utilitarian device used for making calls.
IS THE IPHONE X A LUXURY GOOD?
Has the iPhone X crossed firmly into the luxury category, or is it still just a technology gadget priced according to its more advanced technical specifications?
After all, it checks the boxes of high price, great design and materials and extensive features.
But there is more to luxury than these.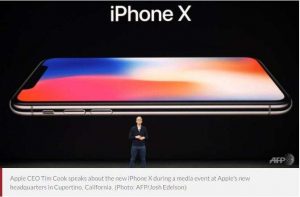 Luxury goods get their status because of the story they sell. Whether this story arises from the brand or the product, the ability to command high profit margins motivates luxury brands to spend millions of dollars just to craft the perfect story to project a powerful, enduring image that resonates with consumers.
A well-crafted story would be widely recognised by users and non-users alike, to denote the distinction of the user of the good as possessing, besides a thick wallet, good taste and membership to certain exclusive social circles.
And one thing is for sure: Apple's goods are rich with stories.

WHAT'S IN A STORY?
Even before the launch of model X, sporting the latest iPhone had always conjured a specific image of the user because of the stories surrounding Apple, whether you were a teenager, a soccer mum, or a member of the corporate world.
Apple's stories tell of a never-ending journey to achieve innovation, of being futuristic or ahead of one's time, of modernity, and of novelty. Consequently, users of Apple goods are thought to be contemporary and avant-garde.
In this day and age, these images are highly prized.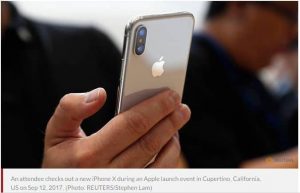 This is precisely what makes Apple's iPhone X a luxury good, unlike any other expensive smart phone on the market. People buy into Apple's imagery that their users are on-trend and use only cutting-edge technology, never mind the actual practicalities of using the tech features or whether owners will even use them every day to begin with.
Often, the hefty price many Apple users are willing to shell out is for the story, and not the smartphone.
Apple further creates the illusion of the iPhone X being a one-off, must-have luxury by announcing its launch at the same time as the iPhone 8 and iPhone 8S. The considerable price difference between these new models and the iPhone X underscores the latter's exclusivity – and that of those who manage to get their hands on one.
More than that, it also signals something about those who get the iPhone X first, a commodity increasingly prized in a flat, homogeneous world: Individuality.
NOT ALL ABOUT THE MONEY – THOUGH IT HELPS
Earlier this year, hundreds queued outside the Louis Vuitton outlet at Ion Orchard, some overnight, just for a chance at a raffle ticket. Only 350 raffle tickets would grant their holders entry to the launch of the collaboration between Supreme and LV, while the rest only got to pick at whatever was left.
The willingness of fans to shell out as much as S$2,500 for queue proxies and almost S$3,000 for a T-shirt speaks of LV's savviness in positioning itself as a unique combination of tradition and novelty, in a market saturated with street and designer wear alike.
In the same vein, Apple has positioned itself as the most innovative brand amid scores of other smartphones.
For consumers, owing the iPhone X will help set them apart from others, and signal that in a busy world, they'll still come out first.
Much of how Apple brands its product also takes reference from other luxury brands. Just look at Aston Martin. What differentiates it is its portrayal in and close association with the James Bond movie franchise, and the association of the brand and the car with the character.
Aston Martin, like Bond, exudes an aura of mystery and suaveness, and brings with it a sense of adventure which only adds to all its advanced features.
When millionaires purchase an Aston Martin, they are paying to be associated with the daring and skill of James Bond, an exceptional action hero that tackles his worst challenges with poise and ease.

So in the end, what makes something a luxury good is ultimately situated in the story it conveys about you.
In a world where technological advancements dominate the news, the combination of luxury and technology, as encapsulated in the iPhone X, is not a new trend, and one that is likely to grow. Which is why ownership of high-end tech products like the Apple Watch are increasingly getting included into studies on affluence among other luxury brands like Rolex and Patek Philippe.
At the same time, as technology progresses at an increasing pace, these luxury gadgets may be accessible by greater numbers of people.
However much hype an Apple product receives during its launch, its price is sure to fall afterward, and at comparatively faster rates than other traditional luxuries like designer handbags given that technology has a short shelf life.
In this way, the early owners of iPhone X may only enjoy their position at the front of the pack for a shorter period.
And when they do, perhaps the next thing to do is to await the announcement of the iPhone XI.
Amrita Banta is the Managing Director of Agility Research and Strategy, a research and strategy consultancy focused on luxury and premium brands.
Read more at http://www.channelnewsasia.com/news/singapore/commentary-singaporean-socialite-or-tech-addict-what-will-owning-9238270