FEATURED Bloomberg: Hong Kong Retailers Suffer Collateral Damage as Protests Rage
When tourists come to Hong Kong to shop, they head for a six-block stretch of Nathan Road in the Mong Kok neighborhood. There they can find more than 30 high-end jewelry stores, including 10 outposts of Chow Tai Fook, the world's second-biggest jeweler after Tiffany & Co. That's not counting almost a dozen standalone watch stores, which include Rolex, Tissot, and Longines. And global luxury retailers such as Chanel and Louis Vuitton operate boutiques farther up the merchant-lined thoroughfare.
Nathan Road is much quieter than usual these days. The anti-Beijing protests have scared off tourists from around the world—particularly Chinese mainlanders, who're especially important to Hong Kong's retailers. Compared with tourists from other places, Chinese spend more money on shopping; they're also more likely to buy high-end goods. They make up almost 80% of total annual visitors to Hong Kong. In November, after the protests became more violent, the drop in visitors from the mainland was a record 58%, according to the Hong Kong Tourism Board. That month, retail sales fell by a quarter from the previous year, with jewelry and watch sales plunging 44%, according to the city's statistics department.
That sluggish performance might be here to stay, economists and retail industry analysts warn. China's state media have emphasized incidents of anti-Chinese violence and harassment during the protests, amplifying fear and resentment among mainlanders who've only gotten more nationalistic during the trade war with the U.S. "In the eyes especially of mainland tourists, Hong Kong as a destination has changed permanently," says Tommy Wu, senior economist with Oxford Economics in Hong Kong. "Part of it is how it's been portrayed on the mainland—there has been news of anti-mainland vandalism and violence. The image is quite negative."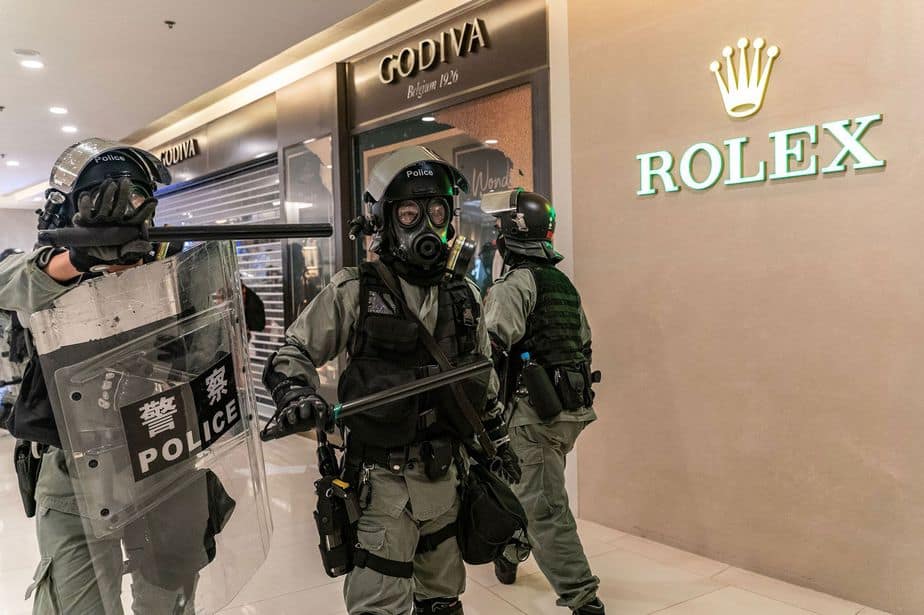 Long before the protests began last year, forces had already been chipping away at Hong Kong's regional dominance in shopping. The growth of busy airline hubs in Beijing, Shanghai, and Guangzhou means many well-heeled mainland travelers can fly nonstop to cities around the world, bypassing Hong Kong. And the huge expansion of Chinese e-commerce platforms such as Alibaba, JD.com, and others has provided new competition.
Meanwhile, China has been encouraging luxury brands to open stores on the mainland. The Chinese government has cut mainland import taxes, and retail prices have fallen as a result. Goods that used to cost 25% to 35% more in Beijing or Shanghai, for example, now sell at a much smaller premium, says Amrita Banta, managing director at Agility Research, a consulting firm that focuses on the affluent. At an Hermès store in Hong Kong, a calfskin wallet sells for HK$26,700 ($3,438). Chinese online platform Tmall advertises the same wallet, which ships from Italy, for 24,580 yuan ($3,589), a premium of less than 5%.
That's a "much more fundamental" issue for Hong Kong, Banta says. "You can't just depend on one nationality to support the industry. This round of protests is a good reminder to adjust to the new normal. Hong Kong cannot totally depend on shopping." Banta says she remains bullish on the city's future as a tourist mecca because of a litany of other attractions, including its mountains and beaches, top-flight restaurants, and long history as a cultural bridge between East and West. "Shopping is still important, but it's part of a more holistic travel experience," she says.
(Cover photo: Workers clean up after protests at New Town Plaza in December. PHOTOGRAPHER: WINSON WONG/SOUTH CHINA MORNING POST/ZUMA PRESS)
To read the full article, please click here