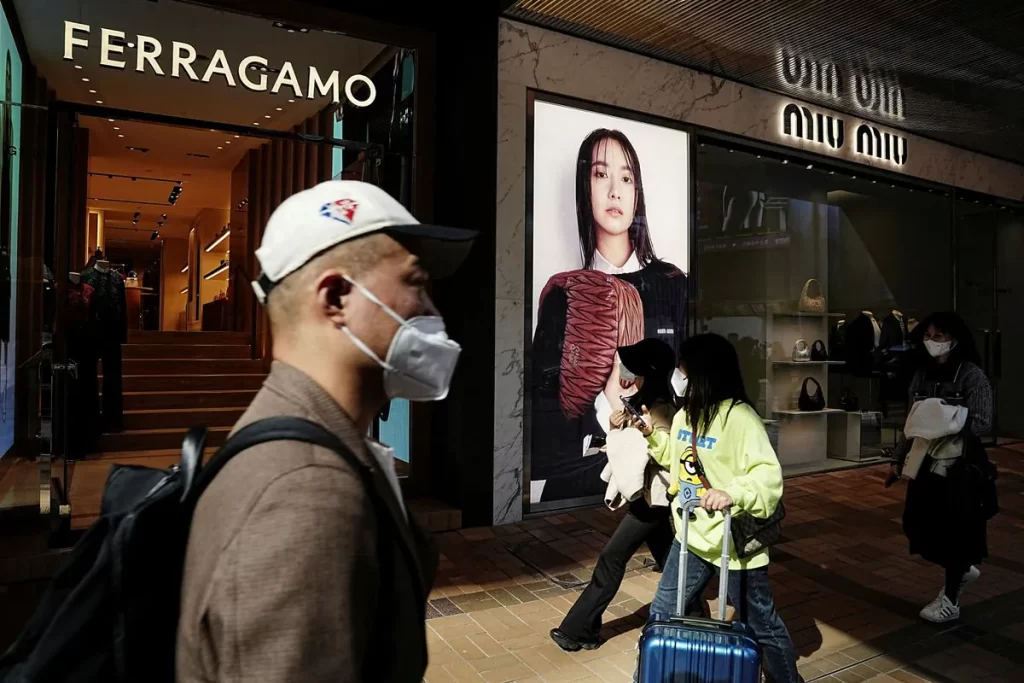 SHANGHAI/PARIS, July 19 (Reuters) – The luxury goods industry has relied heavily on China and North America for growth in recent years, but latest Chinese economic figures and a disappointing sales update from Cartier-owner Richemont (CFR.S) suggest both markets may be starting to slow.
Major luxury brands have invested millions to reach new customers in the two markets, venturing beyond traditional high-end shopping centres to open new stores in places like Wuhan and Zhengzhou, or Charlotte and Nashville.
A post-pandemic U.S. splurge had already shown signs of flagging, leaving investors to pin their hopes on Chinese shoppers to sustain the months-long spending spree that has boosted the sector's fortunes.
China's economy faltered in the second-quarter, however, prompting banks J.P.Morgan, Morgan Stanley and Citigroup to trim their growth forecasts for this year.
On Monday, Swiss-based Richemont announced sales for the three months to the end of June that fell short of expectations, with sales in the Americas down 4% and those in Asia also disappointing.
Its shares closed down 10.43%, with Hermes dragged 4.21% lower, LVMH down 3.7% and Kering slipping 1.95%.
China will "not be going through a V-shape demand recovery but rather a multi-year consumption catch-up at home and abroad," analysts at Citi predicted following a call with Richemont executives.
First quarter earnings for companies including LVMH and Chanel had already shown North American growth slowing to single digits after double-digit quarterly expansions for much of 2021 and 2022. Kering (PRTP.PA) and Ferragamo (SFER.MI) saw double-digit declines compared to the same period last year.
Whether luxury companies can offset that largely U.S. slump will depend on how China's recovery in domestic and tourist demand unfolds over the rest of this year, analysts say.
A COMPLEX COMEBACK
Luxury executives have been banking on China's comeback to push the industry as a whole into positive territory in 2023 – likely around 5% according to Bain estimates – though some brands, such as Hermes and Chanel, will fare better than others. Their wealthier target consumers are better insulated against macroeconomic headwinds.
"The luxury industry seems to be outperforming the consumer market as a whole in China, but you know, really, almost everyone you speak to, there's a level of uncertainty," said Agility's managing director Amrita Banta.
"There's a level of not feeling entirely comfortable with their future economic position that is really affecting almost everybody in China."
In China, jewellery is emerging as the most in-demand product category, outpacing casual shoes, leather goods and clothing, with watches also seeing strong sales, consultants say. As for accessories and clothing, Chanel, Dior and Balenciaga saw the highest increases in purchases in the most recent quarter.
The spending slowdown in the United States largely reflects elevated prices, high interest rates and slowly deteriorating credit conditions. Those factors disproportionately affect "aspirational" luxury customers who can easily live without another Gucci bag or $900 pair of sneakers.
In China, luxury consumers are younger than in the rest of the world with an average age of 28, according to BCG – something companies had seen as positive for future growth.
But rising unemployment among the younger generation – China's youth jobless rate climbed to 21.3% in June from 20.8% in May, a new record high – could spell trouble in recruiting new consumers, within luxury's top-tier brands and outside.
"In the trends that I'm seeing in the U.S. and also in China, more aspirational younger consumers are feeling more of a pain," Morningstar senior equity analyst Jelena Sokolova said.
Morgan Stanley data shows some luxury players, including Richemont, already generate around 40% of global revenues in China, raising worries about over-reliance on one market, especially one widely seen as a future geopolitical flashpoint.
But according to HSBC's Erwan Rambourg, one silver lining of the pandemic has been that European luxury brands have started to pay more attention to local clienteles, potentially making them less vulnerable to China risks than in 2019.
"This means the sector which used to be Japan-centric 25 years ago and China-centric pre-COVID is now really more of a play on global wealth rather than just one nationality. This is very healthy," Rambourg said.
"However, given the wealth creation in both China and the U.S. and a cultural awakening to luxury recently in the latter, these two markets should continue to account for the bulk of incremental growth."
Article courtesy of Reuters: Why China could become the luxury industry's next sore spot | Reuters